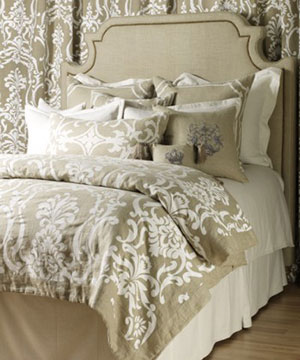 In the past, most engaged couples didn't live together prior to their wedding, and so their guests would give them gifts of furniture, dishes, and linens to help them start their household. While more couples live together before marrying now, your wedding is still a great time to ask for furniture and other home goods. In this article, our team at Wolfgang Interiors – Furniture, Draperies & Design will go over few key items of home furniture and accessories you should add to your wedding registry.
Bedroom Set – One type of home furniture we encourage you to put on your registry is bedroom furniture. A full bedroom set includes a bed, a pair of nightstands, and a dresser. Even if you already have these things, why not ask for an upgrade as a wedding present? You could also request new bedding, pillows, and bedroom décor.
Dining Room Set – We also encourage you to put a dining room table and chairs on your wedding registry. An elegant dining set is an example of home furniture that instantly elevates your interior design, and we know countless couples who dream of one day owning a beautiful table and chairs. Your wedding is the perfect occasion to ask for these fine pieces. Also, don't forget about China and other kitchen accessories.
Living Room Furniture – Your wedding registry is an opportunity for you to ask for more luxurious home furniture for your living room. If you have been wanting to upgrade your couch, armchairs, coffee table, or other pieces, go ahead and pick out a nice replacement piece for your registry.