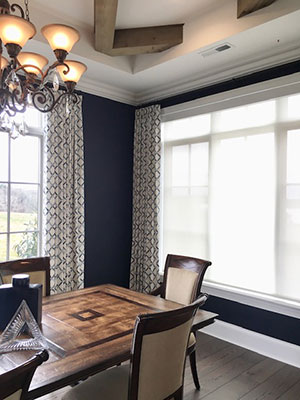 Custom draperies can add a level of refinement and beauty to any room in your home that standard-made draperies can't compare to. At Wolfgang Interiors – Furniture, Draperies & Design, we design and install beautiful custom draperies for our customers, and there are several things we want you to know about choosing us to create window treatments for your home.
We measure, design, fabricate, and install all of our custom draperies, window treatments, and bedding ourselves. This allows us to ensure an unparalleled level of quality with the end-product. As a result of cutting out the middleman, this also helps us keep the cost of our custom draperies down.
We value your input when we help you design custom draperies for your home. If there are particular colors you prefer, or if you saw a certain look in another home or a magazine you want to try, please let us know during your consultation.
Custom draperies are the finishing touch on any room. If you have us help with the furniture selection and general interior design of a room in your home, don't overlook the importance of window treatments. Although subtle in many cases, most rooms look like there is an essential design element missing without the right window treatments.
We are excited to lend our expertise as we help you create custom draperies for your home. For further information or to schedule a design consultation, reach out to us today.